[et_pb_section][et_pb_row][et_pb_column type="4_4″][et_pb_text]
All articles by Keith Horner 
In Search Of . . . Florence Beatrice Price (1887-1953) 
published October 09, 2022
That's Florence Price in November 1943, at the age of 56 writing a third letter to Serge Koussevitzky, music director of the Boston Symphony Orchestra, and a well-known advocate for American music, asking him to consider performing her scores…. [read more]
---
On the trail of . . . Louis Jullien
published January 19, 2021
Now that we're approaching the 209th anniversary of the birth and 161st anniversary of the death of a long-forgotten conductor and composer who was once a household name throughout the UK, Paris, Dublin and even several cities in the USA, it's high time to meet and celebrate Louis Jullien . . . . [read more]
---
On the trail of . . . Handel's Messiah (audio documentary) 
published December 16, 2020
Hallelujah: The Making of Handel's Messiah
A two-hour radio documentary by prize-winning documentary producers Keith Horner and Steve Wadhams celebrating and illuminating Handel's masterpiece. [read more]
---
On the trail of . . . Chopin in Mallorca 
published June 20, 2020
For decades I'd read about an abandoned 13th. century Carthusian monastery to which Fryderyk Chopin and his lover George Sand retreated, far away from the prying eyes of Parisian society. The atmosphere it evokes, both from Sand's pen and from a number of biographers, sounded so quintessentially romantic… [read more]
---
On the trail of . . . Haydn's Op. 1 No. 1  
published February 20, 2020
Is this Op. 1 No. 1 Haydn's very first published work?
The first string quartet from the man known as the 'Father' of the string quartet?
. . . . . . Would that it was so simple! … [read more]
---
On the trail of . . . Gustav Holst . . . in Salonika
published November 11, 2018
The eleventh hour of the eleventh day of the eleventh month – one hundred years ago today – was only the beginning of the war effort for English composer Gustav Holst. … [read more]
---
Mr Nobody (aka Mr Mystery) meets Mr Busoni
published September 4, 2018
Piano transcriptions, you say?
Not the real thing?
Secondhand piano music?
Mr Nobody? A composer who daren't show his face?
Let's start where Marc-André will start his recital, with what is probably the most transcribed of all pieces in the classical repertoire: the Chaconne which closes Bach's D minor Partita for solo violin in grand style. … [read more]
---
On the Trail of . . . Ralph Vaughan Williams
published September 4, 2018
"19 villagers.
3 smallholders.
12 slaves.
1 priest."
Those were the residents of the lovely Cotswold village of Down Ampney, as recorded in the Domesday Book of 1066. … [read more]
---
On the trail of . . . Joseph Haydn in Eisenstadt
published January 8, 2017
It is still quite easy to imagine walking in the footsteps of Joseph Haydn in Eisenstadt, a small town in the Austrian Burgenland, less than 50 km south-east of Vienna. Eisenstadt was the principal residence of the Esterházy family, whom Haydn served for more than four decades, and it was here that he created much of a vast catalogue of musical compositions. … [read more]
---
 On the trail of . . . Johannes Brahms in Hamburg
published November 22, 2016
It's not exactly where you'd wish to be born and grow up, is it?
A large, shabby tenement building in a run-down area of Hamburg, close to the city walls. This is the crowded Gängeviertel, or Laneway Quarter of the North German port city, where tall, gabled wood-framed buildings of brick, clay and straw are packed together in narrow laneways. … [read more]
---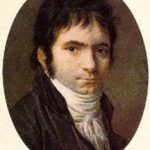 On the trail of . . . Beethoven in Heiligenstadt (with audio)
published September 11, 2016
Does any composer have more plaques, statues, museums or memorial sites than Ludwig van Beethoven?
Top of the list are the 12 museums and memorial sites spread over five countries.
Vienna has a quarter of them. The city is also decorated with many of the more shadowy 'Beethoven lived here' and 'site of the dwelling of . . .' signs.. … [read more]
---
Train-spotting with a famous composer
published August 29, 2015
Here's a curious sidelight on the life of Antonín Dvořák – the viola-playing member of 'The Czech Quartet' above. Dvořák's Op. 61 quartet is featured in the Apollon Musagète Quartet concert this November
A small exhibition at the Dvořák Museum in Prague highlights the fascination that the Bohemian composer had with the steam locomotive. … [read more]
---
 On the trail of . . . Edvard Grieg in Bergen
published
When Janina Fialkowska performs a selection of Grieg's Lyric Pieces for MusicTORONTO October 28, she continues to champion the cause of a composer who remains his country's most widely known cultural export, more than a century after his death. … [read more]
---
Mendelssohn's Octet – an athlete sets the bar high 
published
As a composer, Mendelssohn peaked earlier than Mozart – possibly, in part, because his father had a thriving private banking business to attend to and saw to it that his four children had an intensive, well-rounded education in the family home from the best instructors. Or, maybe it was just luck of the draw. Mozart's education, on the other hand, was frequently undertaken on the road, in breaks between concerts, in carriages, in rented accommodation, while travelling throughout the European musical capitals in pursuit of gold snuff boxes. … [read more]
---
Only 88 hammers on the piano, you say? Pity!
published
When Marc-André Hamelin brings his latest delicious, over-the-top, home-baked treat to MusicTORONTO, the confection will be iced with enough piano-insider jokes to give a pianist's fingers cavities.
Hamelin will venture where few living pianists dare to venture and none can quite bring off with the Montreal-born pianist's deadpan nonchalance – and chops! … [read more]
---

Mendelssohn in Love
published
There's a back story – a love story – to the remarkable quartet by Mendelssohn that the Attacca Quartet brings to MT later this month. A love story that lies in the shadow of the powerful, intellectually compelling A minor quartet, Op. 13, the first quartet that Mendelssohn wrote for a public audience. … [read more]
---
Dancing on the graves 
published
Brahms left slim pickings for the musical grave-robber. He composed in his head, not in a notebook – directly to his C:\\, as it were.
Brahms also burned his sketches – reducing PhD candidates to tears. He also admitted to destroying dozens of completed works that fell short of his own exacting standards. … [read more]
---
Uncovering the roots of Bartók's string quartets 
published
"The right type of peasant music is most varied and perfect in its forms. Its expressive power is amazing, and at the same time it is void of all sentimentality and superfluous ornaments. It is simple, sometimes primitive . . . and a composer in search of new ways cannot be led by a better master." … [read more]
---
 Rufus Wainwright's All days are nights: Songs for Lulu
published
"Depressing, lugubrious and down" is how Canadian singer-songwriter Rufus Wainwright speaks of All Days Are Nights: Songs for Lulu.  The 48-minute song-cycle, written during the long and painful death of his mother Kate McGarrigle, divided fans.  When the pop star toured the piece, alone at his piano, dressed in a 17-foot-long, black feathered cape, many were surprised at his request to remain silent between songs.
… [read more]
---
Who's afraid of Hugo Wolf?
published
The late 19th century Austrian composer Hugo Wolf was born into a great musical tradition.  By temperament, though, he remained an outsider.  Song – German art song – was the weapon of choice with which he confronted the Viennese Establishment.  With it, Wolf brought the tradition of Schubert and Schumann to a level of intensity and heightened sensitivity to the text that relatively few could fully appreciate.  Wolf did little to woo his audience. … [read more]
---
Golijov's Quartet-in-progress
published
"They came on stage like hungry cannibals and I felt a strange sense of tranquility," said Argentina-born composer Osvaldo Golijov when the SLSQ gave the première of his quartet Yiddishbbuk at Tanglewood in 1992. "For the first time in my life I was listening to what I had written being played as vividly as I heard it in my head."
The cannibals did not consume the composer. They recorded the work he wrote for them, championed other Golijov works and received two Grammy nominations along the way. … [read more]
---
"He will soon be forgotten."
published
"According to all testimony, his life had run a dissipated course between wine and card-playing. . . He will be soon forgotten."
(Nikolai Rimsky-Korsakov – My Musical Life)
Never have your teacher write your obituary. Particularly when he gets it wrong. … [read more] 
---
"Le concert – c'est moi!" – "I am the public concert!"
published
So here's the classical world's first real superstar, caricatured in pen and ink by two mid 19th century artists.
The beanpole profile dramatically raised hands and follically extravagant hairdo follow a trail blazed by the cadaverous, devilish Paganini.
Liszt's sideways profile to the audience and the absence of music in front of him were his own doing. … [read more] 
---
Third pressing string quartets?
published
"If they cut off both hands, I will compose music anyway holding the pen in my teeth," a determined 30 year-old Shostakovich told a close friend in 1936.
Stalin and his cronies had just walked out of a performance of Shostakovich's hugely popular opera Lady Macbeth of Mtsensk.  Pravda, the official voice of the Union of Soviet Socialist Republics, printed its now infamous article headed "Chaos instead of Music." Ahead lay a roller-coaster ride as an artist under some of the 20th century's most oppressive leaders, Stalin and Brezhnev among them. … [read more] 
---
  I am not suited to give concerts
published
I am not suited to give concerts.  The crowd intimidates me.  I feel asphyxiated by its eager breath, paralyzed by its inquisitive stare, silenced by its alien faces."
No, that's not Glenn Herbert Gould speaking after he quit the concert platform in 1964.  It's a 25 year-old Fryderyk Franciszek Chopin, speaking to Franz Liszt about his concert phobia.  "You have the wherewithal to overpower it," Chopin told Liszt, maybe somewhat enviously. … [read more]
---
 Debussy's Second String Quartet?
published
It's the masterpiece that Debussy titled First String Quartet that the Tokyo Quartet will bring to Jane Mallet Theatre, September 15 when they open Music TORONTO's 40th anniversary season.
The Tokyo do not have a second quartet by Debussy in their repertoire. In fact, you won't find a string quartet that does. But the French composer did promise to write a second quartet for his fellow-composer and sometime benefactor Ernest Chausson. "I'll write another one which will be for you, in all seriousness for you," Debussy wrote in February 1894, a few weeks after the première of the First. … [read more]
---
[/et_pb_text][/et_pb_column][/et_pb_row][/et_pb_section]