"19 villagers.
3 smallholders.
12 slaves.
1 priest."
Those were the residents of the lovely Cotswold village of Down Ampney, as recorded in the Domesday Book of 1066.
That priest's successor (with a switch from priest to vicar after Henry VIII's say in such matters) was the father of Ralph Vaughan Williams (1872-1958).
The English composer died exactly 60 years ago, August 26 this year, and, earlier in the month, I went to take a look at the village where he was born. Preparations were underway for its first, modestly-scaled Vaughan Williams Festival (August 24-27).

The church is the centre of attention for both festival and visitor. Built by the Knights Templar, All Saints' Church, Down Ampney first opened for business back in 1265.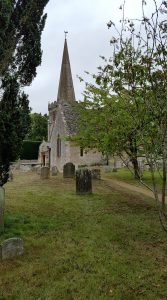 Various brushes with plagues in the Middle Ages led to the village developing in directions away from its church, giving today's setting the sort of pastoral tranquility where you could easily come upon a lark ascending.
But it wasn't in Down Ampney that Vaughan Williams would have likely remembered hearing the larks that bring such a haunting beauty to his music.
The Rev'd Arthur Charles Vaughan Williams died when Ralph was only a little over two years old and the family had to move.


VW Snr. is buried at Down Ampney and has a memorial stained glass window inside the church where he gave sermons.
There is a campaign underway to raise funds for the adjacent window to become a stained glass memorial to his son before the 150th anniversary of the composer's birth in 2022.
Vaughan Williams was born in the vicarage, in the centre of the village. The house is now in private hands.
English folksong, Elizabethan and Jacobean music and English hymns were the ingredients that triggered the musical style of Vaughan Williams. He was to become the leading English composer of his day and a key figure in the revival of English music.
Although an agnostic, he did edit The English Hymnal between 1904-6, purging it of Victoriana, rediscovering old tunes, adapting over 40 folk songs as hymns and writing several himself.
These included one he titled Down Ampney after the village where he was born. It's sung to the words Come down, O love divine.
Down Ampney has returned the favour . . . with a street . . . which leads nowhere . . .
Down Ampney could do better.
Meanwhile, here's the original Linden Lea sung by the Choir of New College, Oxford.

We did drive carefully, as the sign requests, and there will be more Vaughan Williams in a later post.
Blog post and photographs © copyright 2018 Keith Horner – khnotes@sympatico.ca
On the Trail of . . . Ralph Vaughan Williams (part one)
| 2018 |
Uncategorized
| Tags:
All Saints Church
,
Come down
,
Down Ampney
,
Keith Horner
,
Linden Lea
,
O love divine
,
Rev'd Arthur Charles Vaughan Williams
,
The Lark Ascending
,
Vaughan Williams
,
Vaughan Williams 60th anniversary
,
Vaughan Williams birthplace